Nach Mischas(♥) geplanter Aktion "Brot für die Asu" letztes Jahr, wurde endlich die nächste Initiative ins Leben gerufen: ESSEN FÜR ASU vom ultimativen Profi-Eichhörnchenbändiger Tümo!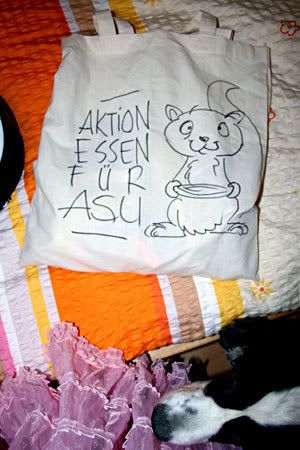 Mit Deko-Mitbenutzungshund XD
Darüber freu ich mich besonders, weil er schon viiiiieeeel zu lang nicht mehr hier erwähnt wurde und das obwohl er der tollste Tümo der Welt ist.... ♥ ♥ ♥ *schleim* Schließlich hab es zum großen Teil ihm zu verdanken, dass ich hier im großen, kalten Hamburg noch nicht verhungert bin!
Sonst kann ich euch noch berichten, dass den heutigen GROßEN FIGHT Haarlack vs. Hamburger Wetter der Lack gewonnen hat, YEEEEEAAAAH!
♫


Wake the dead
(Comeback Kid)

♥

-beat


90%
(KAAAAAAALT!!)
★ASU★
asurocks.de
p.s.: TROTZDEM BIN ICH DAS UNGLÜCKLICHSTE HÖRNCHEN AUF DER GANZEN WÖÖÖÖLT, WEIL ICH NICHT WUSSTE, DASS GESTERN FROM AUTUMN TO ASHES AUFGETRETEN SIIIII~ND!!!! *buhuhuhuuuuuuuu*
p.p.s.: Aber ich hab ESSEN!